Much has been written about The Sound of Music starring Carrie Underwood that aired in December on national television. The Original Broadway Musical starring Mary Martin in the 1950s was one of my favorite albums as a young girl. The 1965 movie starring Julie Andrews has always been one of my favorites movies and so I very much enjoyed watching the live stage presentation with Ms. Underwood.
But all of that got me wondering about the real Maria Von Trapp and I am delighted to say that her book, The Story of the Trapp Family Singers, the Story which inspired The Sound of Music has been one of the best I have read.
I have really enjoyed reading the book via the Kindle app on my ipad and iphone. I have found I can pick it up any time and get a few pages in (car line, doctor's office etc.)
Of course, I got the book because I thought it would be interesting to see how the musical differs from real life
Right off the bat there are differences:
There were seven children but they all had different names

Maria was hired to be the tutor only to Captain Von Trapp's daughter Maria, who could not go to school due to illness
Throughout the book, as wonderfully revealed in the musical and movie, Maria has a great desire to know the will of God and to do it.
Best surprises to me about the true story was that the Von Trapps were a beautiful Catholic Family. Maria shared many of their family's Catholic traditions including:
Feast days and birthdays celebrated

Advent Wreathe created by Maria and Children- songs and prayers each night of Advent

Christmas with tree with candles, decorated on Christmas eve

December 24 Holy Eve -the entire family and town would go to confession, even though there was no heat in church!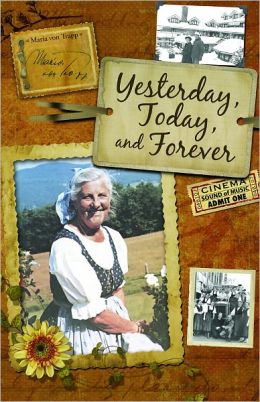 After reading this book, I immediately started reading another book by Maria Von Trapp, Yesterday, Today and Forever. Particularly loved reading this over the Christmas break as Marian takes the beautiful bible stories of Our Lord and gives insight on how her family and all families not only can learn from them, but live them.
There is so much great information out there about this most beloved story. I hope you enjoy all the resources and the true meaning of the Sound of Music! CLICK HERE for the Sound of Music website and more details about the real life of Maria Von Trapp